Past Award Recipient: Giacomo Sciuto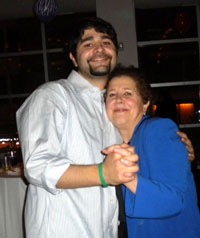 January 13, 2014
Clayton: So hows life after college?
Giacomo: Rewarding. I love my job molding the minds of Americas youth. The routine that I go through every day is not as much fun, but I do find that Im way more able to do what I want to do. I dont get to see my friends and family as much anymore with a full time job, but the times that I do get to see them are more special because of it Life is rich.
Clayton: What do you do now that you are no longer and undergrad?
Giacomo: Im a first-year teacher at Montgomery Village Middle School teaching 6th and 7th grade Social Studies and I absolutely LOVE IT.
Clayton: What was your experience like finding a job after graduation?
Giacomo: Luckily, I maintained my connections with some of my old teachers from high school who helped me to get an interview. The interview process was intense, I had to sit in front of a board of teachers and the principal for my interview, but ended up landing the job.
Clayton: So, we all want to know What did you end up doing with the money?
Giacomo: Over the past summer I was actually able to visit my sister in Tanzania, who was doing charitable work in that part of the world, and the money helped me pay for the trip. It was an amazing experience and a great precursor to entering the real world.
Clayton: That sound like a lot of fun! How has receiving the Award or being a part of the ZGK Foundation changed your experience of entering the real world?
Giacomo: Ive worked hard all my life and I believe working hard is important. But when somebody recognizes the hard work and your dedication it really boosts your confidence and willingness to do more.
The ZGK Foundation made me much more aware of my role as someone that others look up to, because people are watching you and you need to be a role model; you need to be a leader who stands up for those who cant necessarily stand up for themselves. One day those people will be your greatest assets in life.
The Award is the greatest honor ever reposed in me.