Past Award Recipient: Corey Nethen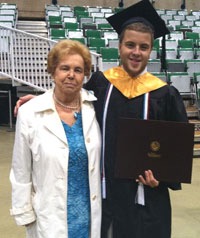 January 13, 2014
Clayton: Hows life after college?
Corey: A whole other ballgame without the distractions of everyday college life, though, you really get to focus on what you want to do with the rest of your life.
Clayton: So what do you do now that you are no longer an undergrad?
Corey: Right now Im in the process of becoming a Mortgage Loan Originator and Ill be focusing on helping Veterans with securing home loans. Other than that, Ive been playing music with my friends and recently took up rock climbing.
Clayton: Rock climbing?! Thats awesome! So what was it like finding the job that youre in now?
Corey: A rollercoaster It started off very positive, but there was a very long waiting period which required a lot of patience. In the end though, it paid off.
Clayton: Its good you finally got that call. So we all want to know Whatd you do with the money?
Corey: That very rough time that I was talking about when I was waiting for a job offer to come through the Award kept me above the red during that period and Im not sure what I would have done with it!
Clayton: How has receiving the Award or being a part of the ZGK Foundation affected your experience of entering into the real world?
Corey: Ive had Zacks bracelet on since we first ordered them and it serves as a reminder to me of the Foundation and what Zacks life meant to me and so many others; it reminds me not to be judgemental of others as well as to throw humor into different situations and always have a positive outlook.
Its really awesome to have the Foundation around so that it can serve as a backbone to the undergraduate Pi-Sigma Chapter as well as give my Brothers who come after me a shining example of what it is to be an upstanding gentleman.